Our wading shoes didn't come about because of some fancy product development program. It all started when Gary Borger, one of fly-fishing's top instructors and authors came to us and asked if we could make a special pair for him. We talked. Made a sample pair for him. He tried them out...came back to us a few weeks later with some new ideas and a change here, a change there. And well, as they say, the rest is history. Our first wading shoe was such a hit that it became known as "The Ultimate"®. Since then our family of wading shoes has grown to meet the needs of just about every fly-fisherman out there. And while wading safety and comfort have always been our primary concerns, we've also made sure that they'll endure the test of time and nature for you.

Made in USA
Check out the entire line of wading shoes. Then find the dealer nearest you or simply order online. Thank you...and enjoy!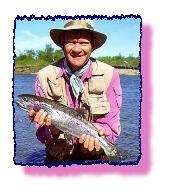 Gary Borger
Click on Gary's photo to read about
his latest fishing adventure or tip.